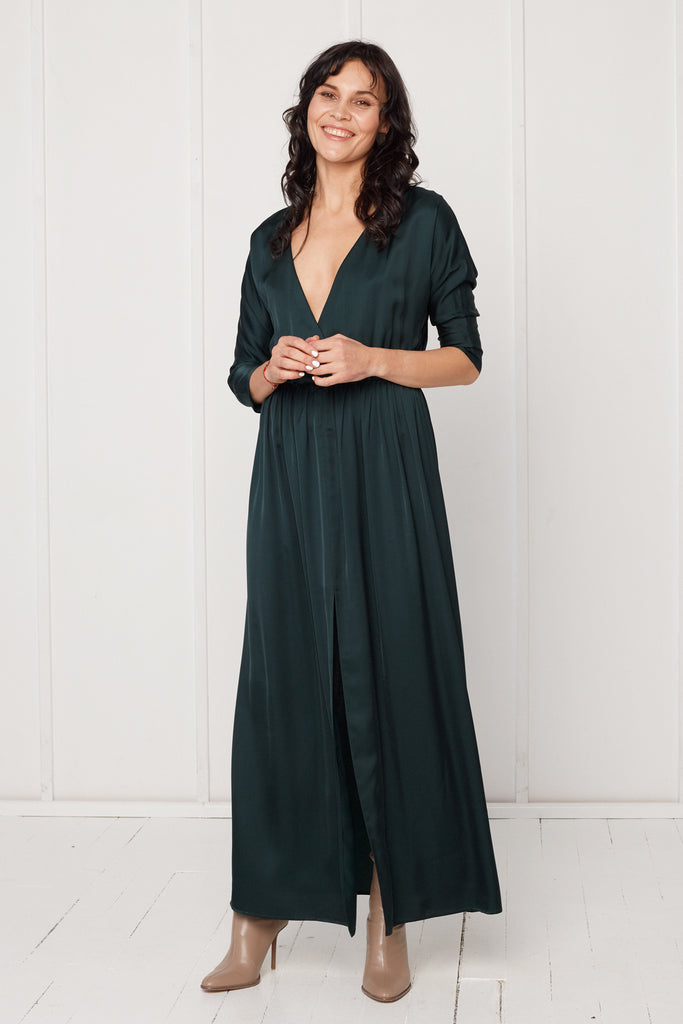 CECILIA oversized kimono sleeve maxi dress in dark green
PRODUCT DETAILS
To stand out in the crowd sometimes you only need one amazing minimalistic CECILIA dress. Which elevates you, not hides you. Because it is you who's worth every sigh of admiration that day. Look at this one... Is it worth being your special? We believe it is! It's dreamy, it's romantic, it's flirty.  
SIZE & FIT
Model is 173 cm/5'7" and wears size XS•S.
Please choose the size based on garment measurements:
XS•S: Waist – 80 cm/ 31,4", Skirt length – 108 cm / 42,5"
M•L: Waist – 90 cm/ 35,4", Skirt length – 108 cm / 42,5"
Please note that all garment measurements might have a slight variations due to handmade nature of each dress.
FABRIC & CARE
Composition: 100% viscose.
Care: cold hand wash, cool iron only, dry cleanable.

This is a lightweight, soft-touch fabric. Like cotton and all other natural fibers, viscose is breathable and therefore suitable for warm weather. Compared to many other fabrics viscose does wrinkle easily.

WHAT IS VISCOSE?

Viscose is the generalized term for a regenerated manufactured fiber, made from cellulose, obtained by the viscose process. As a manufactured regenerated cellulose fiber, it is neither truly natural (like cotton, wool or silk) nor truly synthetic (like nylon or polyester) – it falls somewhere in between. Because viscose is made from renewable plants, it is frequently cited as being environmentally friendly and sustainable.

TAKING CARE OF VISCOSE

Though viscose fabric is delicate, it's safe to wash it after every wearing if it's hand-washed. This is gentle enough to prevent damage, but it's essential never to wring or twist wet viscose. After hand-washing, gently squeeze out excess water. Place the wet garment on a thick cotton towel, and roll it up to absorb most of the water. Allow the garment to air-dry flat, or hang on a padded hanger to drip-dry.

If you opt to use a washing machine, place your garment inside a mesh bag, wash in cold water, choose the gentle cycle, and select the slowest spin speed.

To remove wrinkles from viscose fabrics, use a medium heat temperature (silk setting) on your iron with a pressing cloth to protect the fabric. However, steam from the iron is usually the best way to remove the creases on viscose. A clothes steamer can work well to relax wrinkling, as well.
SHIPPING & RETURNS
WE SHIP WORLDWIDE!
Your order will be shipped within 1-2 business days of purchase, except if specified otherwise. A tailoring of some garments may take up to 3 weeks (pre-order items, items of limited production, custom orders). It's clearly mentioned in every item's description, so please READ IT carefully.
We offer STANDARD and EXPRESS shipping. Standard delivery takes between 5-20 working days depending on your location. Express delivery takes between 1-3 working days.
Delivery times for standard shipping depend on your local postal service and may significantly vary. Use express shipping service if you want to avoid delays.
We do not offer a free returns service. All return shipping costs are at the customer's expense. Original shipping charges and duties and taxes are non-refundable.